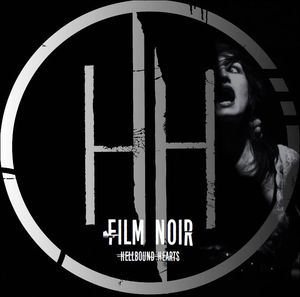 After months of waiting Hellbound Hearts can confirm the release of their debut album Film Noir! 
Early promotion for the album and reviews have been great and have exceeded all expectations for which the band are grateful, for all those involved in getting the music out there, we salute you! 
You can purchase Film Noir from the Store at www.hellboundhearts.com as well as all major digital publishers such as amazon, itunes, google etc. 
8th April sees us play the launch show in Leeds at the Key Club so get your tickets now if you havent already and we'll see you there! 

 
"A surefire success. Film Noir? This wants to be a Hollywood blockbuster" (8/10) Powerplay Magazine 
https://www.facebook.com/stampedepressuk/posts/1344952038900112 
"...Too big to ignore...In 'Film Noir' we have a commanding collection of songs that is essential listening for any discerning rock fan and supporter of new music..." 
- Great Music Stories (Album Of The Month) 
http://bit.ly/2owbVam 
"'Film Noir' is every bit as enigmatic and intriguing as its name suggests" - Fireworks Magazine 
https://www.facebook.com/stampedepressuk/posts/1339878619407454 
"A blistering example of how to approach a debut album. Hellbound Hearts have found their own voice in a heavily saturated market and they've announced themselves with an album to be proud of" (5/5) - Rock N' Load 
http://www.rock-n-load.com/album/hellbound-hearts-film-noir-album-review/